The Healing & Empowerment School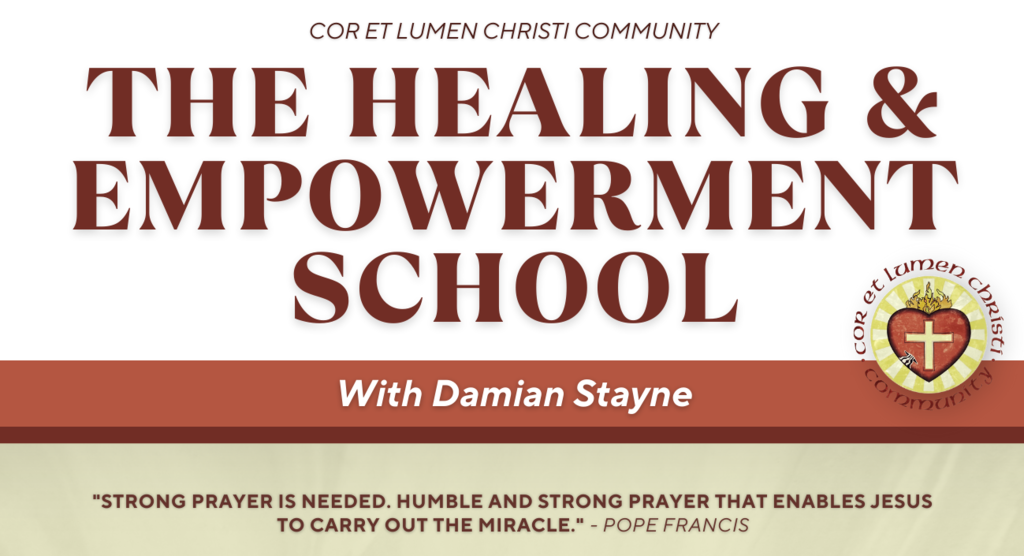 Saturday, 25 March
→ Sunday, 26 March 2023

City of London School for Girls St Giles' Terrace Barbican, London EC2Y8BB
About
The Healing & Empowerment School
Cor et Lumen Christi EVENT
with Damian Stayne
March 25th-26th 2023 Barbican, London

This conference will be available IN PERSON ONLY.

All Attendees will need to, register below.


In recent decades there has been a great growth in interest in healing both within and outside of the Church. The Vatican has sought to encourage Catholics in this ministry. We are convinced that healing is a crucial part of the commission of Jesus to spread the good news. Now is the time to equip the Church so that she may offer an authentic ministry of healing and deliverance, confirming the gospel proclamation, leading people to Christ and deepening their communion with him and one another in love and freedom.
This conference is for all those, lay, religious or clergy, who wish to grow in gifts of prayer ministry and healing, whether in parishes, prayer groups, ministry or mission teams. Although this is a stand-alone conference, it is also an ideal follow up to The Charism School.

The conference will include an open Miracle Healing Service on Saturday evening.
Please invite your friends

Location:
City of London School for Girls
St Giles' Terrace
Barbican, London EC2Y8BB
Tube: Nearest tube stations are Moorgate,
Car: The school has no parking facilities. For car parking options please go to www.parkopedia.co.uk
Meals:
There is a variety of restaurants and shops within 15 minute walk. Please feel free to bring a packed lunch with you.
Accommodation:
Try visit London on
www.visitlondon.com
or 08701566366


We look forward to seeing you.

By booking, you commit to take part in the whole of the event, and consent for any footage and pictures to be taken and used for future promotion or advertising.

In Jesus our joy!
Location
City of London School for Girls St Giles' Terrace Barbican, London EC2Y8BB
Info This event has now passed.