Space for Women - Women Arise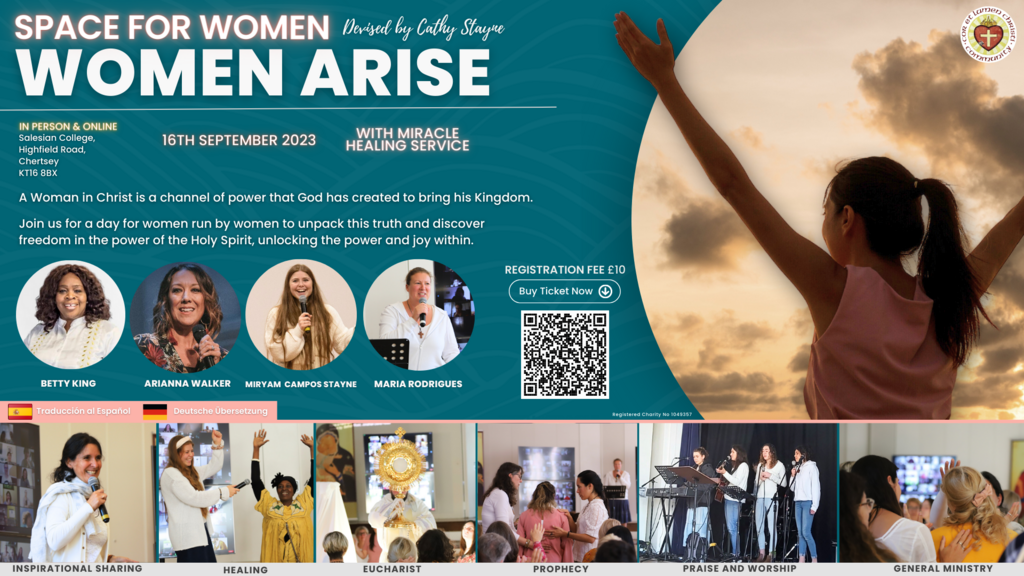 Saturday, 16 September 2023

9:00am - 6:30pm
About
Space For Women
Women Arise

16th September 2023

In-Person and Online

Salesian College, 
Highfield Road 
Chertsey
KT16 8BY


A Woman in Christ is a channel of power that God has created to bring his Kingdom.

Join us for a day for women run by women to unpack this truth and discover freedom in the power of the Holy Spirit, unlocking the power and joy within.

Sessions will include:

✓ Explore your unique calling as a woman of faith
✓ Experience a deep connection with the Holy Spirit
✓ Uncover the gifts and talents that God has entrusted to you
✓ Ignite your power and joy

The Conference will also include praise and worship; Holy Mass (Sunday vigil), times of prayer, reflection, prayer for healing and prophetic ministry.

Guest Speakers include Betty King, Arianna Walker, Maria Rodrigues and Miryam Campos Stayne

Arise, shine for your light has come and the Glory of the Lord rises upon you


Conferencia
Espacio para las Mujeres
"Mujer levantate y resplandece !"

16 de septiembre de 2023

Presencial y en línea

Salesian College,
Highfield Road,
Chertsey,
KT16 8BY

Una Mujer en Cristo es un canal de poder que Dios ha creado para traer su Reino.

Únete a nosotras en un día dedicado a las mujeres, dirigido por mujeres, para desentrañar esta verdad y descubrir la libertad en el poder del Espíritu Santo, desbloqueando el poder y la alegría que hay en ti.

Las sesiones incluirán:

✓ Explora tu llamado único como mujer de fe.
✓ Experimenta una profunda conexión con el Espíritu Santo.
✓ Descubre los dones y talentos que Dios te ha confiado.
✓ Enciende tu poder y alegría.

La conferencia también incluirá alabanza y adoración, Santa Misa (vigilia dominical), momentos de oración, reflexión, oración de sanación y ministerio profético.

Las ponentes invitadas incluyen a Betty King, Arianna Walker, Maria Rodrigues y Miryam Campos Stayne.

Levántate, resplandece, porque ha venido tu luz y la gloria del Señor ha amanecido sobre ti.



Raum für Frauen
Frauen erhebt euch! 

16. September 2023
Vor Ort und online
Salesianischer-College, 
Highfield Straße 
Chertsey
KT16 8BY
Eine Frau in Christus ist ein Kanal der Kraft, den Gott geschaffen hat, um sein Reich zu bringen.
Nimm an einem Tag von Frauen für Frauen teil! Um in dir die Freiheit, Kraft und Freude im Heiligen Geistes zu entdecken und freisetzen zu lassen! 
Die Sessions werden beinhalten:
✓ Erforsche deine einzigartige Berufung als Frau des Glaubens
✓ Erfahre eine tiefe Verbindung mit dem Heiligen Geist
✓ Entdecke die Gaben und Talente, die Gott dir anvertraut hat
✓ Entfache deine Kraft und Freude
Die Konferenz wird auch Lobpreis und Anbetung, die Heilige Messe (Sonntagsvigil), Zeiten des Gebets, der Reflexion, des Gebets um Heilung und des prophetischen Dienstes umfassen.
Zu den Gastrednern gehören Betty King, Arianna Walker, Maria Rodrigues und Miryam Campos Stayne. 
Steh auf, leuchte, denn dein Licht ist gekommen, und die Herrlichkeit des Herrn geht über dir auf! 
Info This event has now passed.